I recently got back from a weekend trip to Hay-On-Wye, the country's capital for bookshops. Our journey down to Hay was wet windy and took about three hours. However, it was most certainly worth it! For this blog I have picked my top bookshops (or places to get books). There are so many more to see and so many more events over the year that I wanted to just give a brief overview of what it is like to visit Hay on a typical weekend away visit.
Where to stay?

I was lucky enough to get us a room in the lucrative Swan Hotel based on the high street only a stones throw from the Main Street. The hotel is wonderful and elegant. It is on the pricy side of Hay, so if you're looking to spoil someone (just like I was) it's perfect. However if you're on a really tight budget there are some other amazing options throughout the little town.
The Cinema Book Shop
Almost opposite the hotel is the old Cinema Book Shop which is over three floors worth of books both old and new. There is also a specialist section full of antique books, maps and much more. This was the first bookshop Jon and I went in once we arrived in Hay and by gosh, we stayed there a while! Jon was in his element and we ended up getting some incredible books, one of which was on 'rare vegetables' which made me laugh so much we bought it. I almost wish I had bought this book called 'The Girl who was took good looking' purely for the title, but I decided against it and settled with a photo.
Two other books that caught my eye were The book of Asparagus and A book about potatoes because they seemed so random. There was also a book on rare vegetables was so funny (not particularly photogenic) but we I ended up buying it as the content was just so astonishing to me. It has artichoke, aubergine and even types of potato in it that we can get in pretty much any supermarket nowadays.
The Castle Bookshop at Hay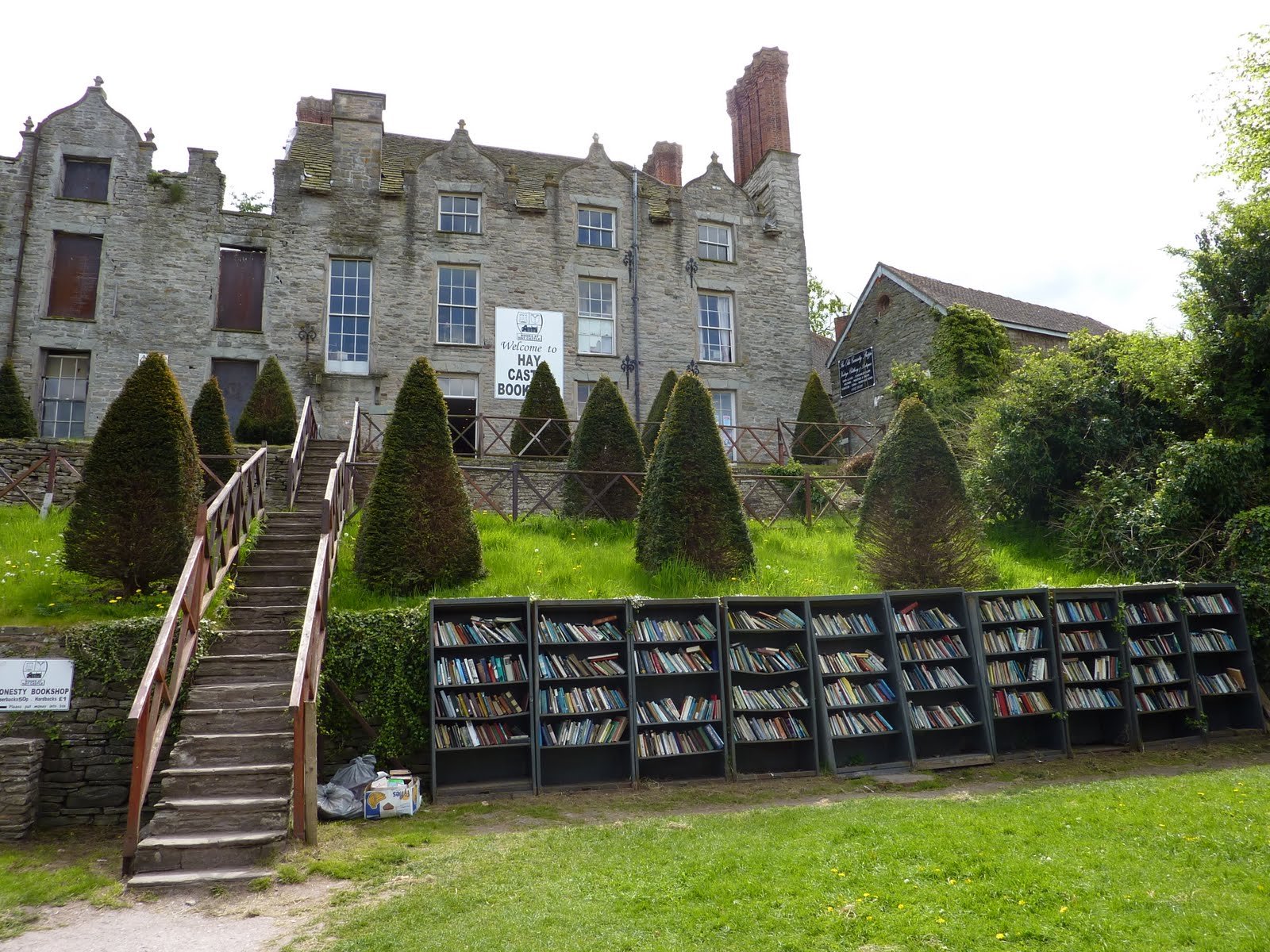 The next stop on our bookshop-crawl through Hay, was to the outdoor bookshop overlooked by the most beautiful ruin castle. The thing about this bookshop is its honest. You can browse at your own leisure, take a seat on the lawn and read and then if you so wish purchase a book for £1 in the honesty letterbox by the steps leading up to the beautiful castle. Here I got a really cute little book about 'ponies and horses' detailing the ins and outs of ponies and horses over the world. I then spent the evening with Jon (as he read James Bond books) telling him random horse facts which I think drove him slowly mad as his laughter turned into eye rolling and 'oh dears'. It's little books like this that I love. As much as I find new literature and old classics dreamy and wonderful, it's the books that are lost and forgotten that can be the most special.
Hay-On-Wye has the most incredible collection of books, a cafe and a cinema to boot! There are sections fo kids, collectors, mythical believers, scientists, literature-lovers, zombie enthusiasts, gardeners, hygge-lovers and much more. The bookshop is spread across three levels (cellar, ground floor and first floor). Upstairs there are walls of literature, home comforts, Scandinavian books and all sorts of religious and mythical books. So, there is really something for everyone, you don't really need to be an in-depth book-worm to feel comfortable here as there is really an area for everyone.  Whilst Jon spends the better half of an hour rummaging about the literature upstairs, I had a chance to sit down and read some wonderful books on Norway.
One of the best books I found was in the 'home / crafts' section and it was called Living in Norway by Elisabeth Holte, Solvi Dos Santos and Knut Faldbakken.
The book is an eclectic mix of over 250 images of interior and exterior shots of Norway giving the reader a real sense of design, culture and heritage. My favourite bit about the book is the lack of 'people' and the fact there are so many museum style photos, or Insta-worthy photos throughout. It's an adult picture book of Norway with some beautiful written text explaining the style / history and culture of the people.
After our exhausting mooch intertwining ourselves through bookshelves, we went for a much deserved coffee in Richard Booths is incredible coffee shop. When there we were amazed at the really lovely selection of homemade goodies from cakes to warm lunches and both opted for a cosy salad.
Addyman books 
The most instagramable bookshop in the town award has to go to this gem. This is a bookshop that has been created by someone artistic and with a real thought of the type of customers they want to bring to the shop. Jon ended up buying so many books here we went away with a free tote bag and a discount!
We loved this bookshop so much we ended up going back there again on Sunday. We were the only customers in the shop from 10am Sunday for a good hour or so, I found at the top of the stairs a beautifully decorated loft space converted into Shackleton's hut from one of his expeditions. It was wonderful because the whole 'hut' was full of polar books, snow books, exploration books and of course Shackleton books too. Addyman's is so wonderfully planned out, it just makes you want to feel at home. It's also refreshing to a find a bookshop allowing you to feel honest and trusted. So many shops have sadly fallen victim to theft that they just case everything and cover the place in cameras, which makes for quite an uncomfortable setting if I do say so. This is certainly not something you feel in Addyman!
So when it comes down to it, if you love books, reading and culture Hay is somewhere you should (if you have not already) visit!